The 'Ah sure look, it's Christmas, I'm going to enjoy myself' mindset is already creeping in. Can you feel it?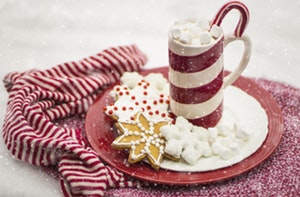 It can be hard to stay on track at this time of year whether you are trying to maintain or trying to loose weight with temptation all around and plenty of socialising.
Here are 5 Top Tips so you can enjoy the festive season and stay on track with you weight goals.
1. HYDRATE, HYDRATE HYDRATE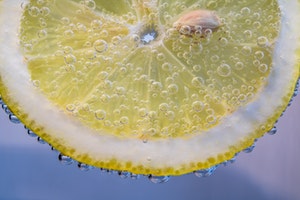 For the remainder of December make a conscious effort to start the day with water, swap your morning cup of tea or coffee for warm water and a squeeze of fresh lemon juice. This will give you a cleansing and healing start to the day, helping digestion. Also by spreading water intake throughout the day and ideally drinking 1-2 glasses before each meal. This can also help reduce water retention and over eating from the fact of simply being dehydrated.
2. THINK GREEN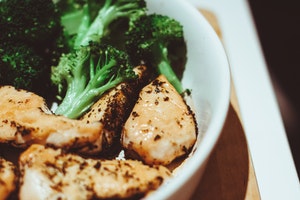 Yes, our mama's knew best on this one, 'Eat your Greens'! Greens are full of goodness, plenty of fibre and very few calories and should be eaten in abundance. Think of the ideal plate with half your plate covered in vegetables mostly green.
For example
Breakfast: scrambled eggs with spinach, tomatoes, and courgette.
Lunch: Lowcal MealsDelivered Wholesome Chicken Salad or Broccoli Soup are packed with greens, and this is an easy way to get them into your diet in run up to Christmas and help keep you on track.
Dinner: A simple stir fry with added broccoli, green peppers, mange tout and asparagus with protein of choice and simple flavorings like half a teaspoon of the following dried herbs: ground coriander, ground cumin, ground cayenne pepper, 1-2 cloves minced garlic, a tablespoon of apple cider vinegar, a tablespoon of soy sauce and if you like sweetness a tablespoon of honey with a little bit of water makes an easy and great tasting clean stirfry sauce.
Alternatively Lowcal Mealsdelivered Buffalo Chicken with seasoned Sweet Potato and vegetables is another healthy and convenient option to get those greens into your daily meals.
3. STAY REGULAR
Never let yourself get hangry! That's when that box of leftover Christmas Chocolate Sweets will look sooo tempting!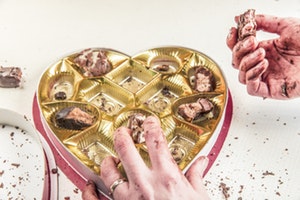 Also avoid banking calories before a night out to use for alcohol instead.
What you could aim to do is try to get in an extra hour walk or extra hour in the gym and reduce carbohydrate intake the day beforehand opting for a small amount of quality, slow releasing carbohydrates like sweet potato instead of white potato or chips and ditching the white bread, white pasta and sugary foods ahead of a night out.
The key is to eat every 3-4 hours and have protein with every meal or snack, this will help keep blood sugars level, the protein will keep you feeling fuller for longer. Try to stick to the same meal times each day, even during the busy out of routine days, your body will thank you for it!
For example breakfast @ 8.00, mid morning snack @ 11.00, lunch @ 2.00, dinner @ 5.30 and another snack @ 8.30, making sure you have plenty of water throughout the day too.
4. KEEP MOVING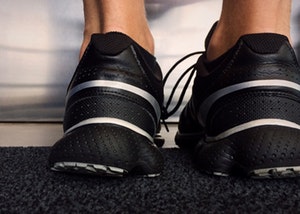 As with the eating tip mentioned above, sticking with the same meal times on out of routine days, stick with the same training or exercise pattern that you have been doing prior to the festive season, and aiming to increase on days prior to social events.
Why not download an audio book, Audible is a great app with all the latest books available for a small monthly fee, which is a great way to get that extra run or walk or session in the gym done without even realising.
If you prefer music make sure you have a great playlist with adequate time to complete your training/exercise without getting bored or having to look for more music.
5. ORDER WITH LOWCAL MEALSDELIVERED
Why not take off some of the added pressure to have healthy and tasty meals prepared and ready by ordering weekly meals from Lowcal Mealsdelivered. Choose from 5 dinners, 5 lunches and 5 breakfasts from as little as €16/17 per day for the Women's Meal Plans and Men's Meal Plans, choose from a variety of tasty, chef prepared fresh foods.
Get your order in by 8 p.m. Thursday evenings to have your meals delivered the following Saturday or Sunday.
Note: Get your order in before Thursday 4th January for our next delivery date in 2018 for Saturday 6th January and Sunday 7th January.
All you need to do is simply reheat and enjoy, giving to added time to enjoy the festive period, saving you time on supermarket shopping, preparing and cooking your meals not to mention the cleaning up after cooking.
Why not take a look at the Menu here on our website and email your order to [email protected]
ARTICLE BY ELAINE BAXTER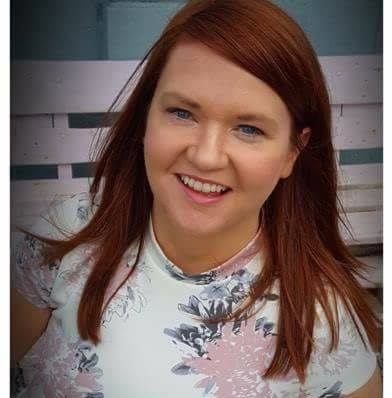 Elaine is a Qualified Nutritional Advisor, who took the leap from the Financial Services Industry to her passion for nutrition and healthy eating, not always something she has loved she tells us! Working with LowCalMealsDelivered to help provide information to help people improve their lifestyle. Elaine specialises in weightloss and works with clients on a one to one basis to help them achieve and maintain their ideal weight..